You are viewing a Past Event. Information here is available for reference.
The 2013 edition of the Science of Eradication: Malaria Core Course Module was held May 5-10 in Barcelona, Spain. 59 participants from 32 countries worldwide contributed to rich, multidisciplinary discussions on key themes of malaria control and eradication.
The six-day course saw faculty from the host institute (Barcelona Institute for Global Health), partner institutes (Harvard University and Swiss Tropical and Public Health Institute), and malaria experts from around the world share their expertise on major malaria topics, including:
the history of malaria eradication;

malaria biology and epidemiology;
socio-cultural and environmental determinants;
political and economic determinants;
tools for surveillance, diagnostics and measuring transmission;
vector control, drug and vaccine strategies; and
modeling to evaluate the effectiveness of eradication strategies.
The 2013 Science of Eradication: Malaria leadership course Core Module was accredited (2 tropEd ECTS credits) by the University of Barcelona.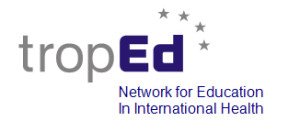 A Multidisciplinary Approach
Participants with diverse backgrounds in malaria control and research contributed to dynamic discussions on themes of malaria control and eradication.