Harvard Names Regina Rabinovich 'ExxonMobil Malaria Scholar in Residence'
Harvard T.H. Chan School of Public Health announced today that Dr. Regina Rabinovich will be its ExxonMobil Malaria Scholar in Residence, where she will focus on innovative strategies to combat malaria. The ExxonMobil Malaria Scholar in Residence program is one of several activities under a new cross university initiative called Defeating Malaria: From the Genes to the Globe, which aims to produce, transmit and translate knowledge to support the control and ultimate eradication of malaria. Harvard T.H. Chan School of Public Health, in collaboration with the Harvard Global Health Institute, is spearheading the effort, which is being launched in partnership with the United Nations Special Envoy for Malaria. The ExxonMobil Foundation is funding the one-year residency program.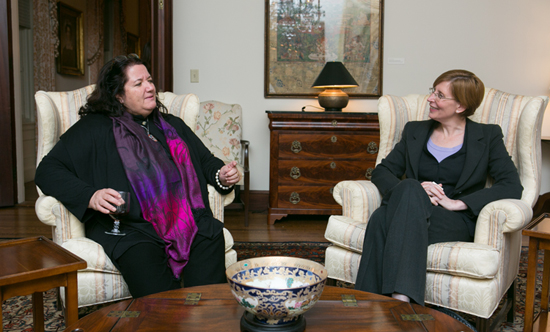 Image: Dr. N. Regina Rabinovich (left) and Ms. Suzanne McCarron, President, ExxonMobil Foundation
"We are delighted that Dr. Rabinovich is joining Harvard to help address key challenges around malaria, and we are grateful to the ExxonMobil Foundation for creating this position," said Dr. Julio Frenk, Dean of Harvard T.H. Chan School of Public Health. "Her leadership and experience in malaria will bring new, innovative ideas and inspire the next generation of malaria experts." Dr. Rabinovich was previously the director of infectious diseases at the Bill & Melinda Gates Foundation, where she oversaw the development and implementation of strategies to combat malaria, pneumonia, diarrhea and neglected infectious diseases. Prior to joining the foundation, Dr. Rabinovich was the director of the PATH Malaria Vaccine Initiative and served in various positions at the U.S. National Institute of Allergy and Infectious Diseases.
"Over the course of my career, I've had the privilege to work closely with researchers, non-profits, governments and foundations," Dr. Rabinovich said. "Now, I'm excited to join one of the world's leading academic institutions and to help leverage Harvard's resources in the fight against malaria."
The ExxonMobil Malaria Scholar in Residence program was designed to bring established individuals with diverse experiences and expertise in malaria to spend a year at Harvard University. The Scholar in Residence will focus on applied malaria control, treatment and prevention strategies, including past disease eradication efforts; malaria biology and epidemiology; vector control, drug and vaccine strategies; financial tools and strategies; the impact of social, historical and political factors; and modeling to evaluate the effectiveness of eradication strategies.
"ExxonMobil has long valued our partnership with Harvard to combat malaria," said Suzanne McCarron, president of the ExxonMobil Foundation. "Dr. Rabinovich is bringing her unique expertise and knowledge to this program, and we look forward to seeing the impact this partnership will have on the malaria field." ExxonMobil is one of the largest private-sector malaria funders, having invested more than $110 million since 2000.
For more than a decade, the ExxonMobil Foundation has supported the Harvard Malaria Initiative, a university wide research and training initiative led by world-renowned tropical disease expert Professor Dyann Wirth. The foundation also works with the university on the annual Science of Eradication: Malaria leadership course, which prepares individuals from a diverse array of backgrounds to assume leadership positions in the malaria field.